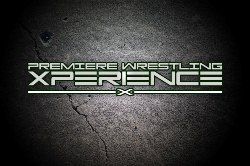 "The Alpha Gladiator" Brady Pierce defeated Wildman Kongo
Enter the Dragon opened with "A Quickie" with White Mike, Mike tried to welcome his guest Tracer X but was interrupted by The Revolt. Tracer then joined them in the ring; invited White Mike to be one of his partners tonight and their third partner was the returning former PWX World Champion "Manscout" Jake Manning!
The Revolt (Caleb Konley, Zane Riley, & Darius Lockhart) defeated Team Tracer (Tracer X, White Mike, & "Manscout" Jake Manning)
Joshua Cutshall defeated Chris Mayne
Corey Hollis came to the ring calling his former best friend John Skyler a "False Prophet" but Skyler refused to fight Hollis and said nothing would change that. This brought out their former brother in The Xperience Gunner who urged the two to shake hands but they refused and Gunner turned on Skyler attacking him with a clothesline.
The Lucha World Order (Jon Cruz & Angel Rose) defeated Pop Culture (Jason Cade & Veda Scott)
Angel Rose suffered a dislocated elbow near the end of the match. Rose was taken to the hospital via ambulance following the match. We wish her a speedy recovery and return to the ring
PWX ITV Champion Elijah Evans IV w/ THE Tommy Thomas defeated Sugar Dunkerton to retain the title
The Syndicate (Timmy Lou Retton & TJ Boss) w/ THE Tommy Thomas defeated The Tough Guys ("Brutal" Bob Evans & "Tough" Tim Hughes)
It was announced that Martin Stone was unable to make it to the show. James Drake to no surprise wanted a fight & he received one from PWX newcomer Maxwell Jacob Friedman
"The New Age Enforcer" James Drake defeated Maxwell Jacob Friedman
Following the match, Friedman attacked the referee and promised he would turn PWX into a 'Combat Zone'
PWX Tag Team Champions The Ugly Ducklings (Rob Killjoy & Lance Lude) w/ Coach Mikey defeated Roscoe Eat Lisa (Mikey McFinnegan & Zakk Sawyers) to retain the titles
The Syndicate hit the ring following the match and laid out the PWX Tag Team Champion
"The Southern Savior" John Skyler defeated Gunner in what was rumored to be Gunner's last independent date.
Following the match, Corey Hollis got in Gunner's face and Gunner power bombed Hollis out of his shoes!!
ReDragon (Kyle O'Reilly & Bobby Fish) defeated PWX World Champion Anthony Henry & Ethan Case w/ Amber Young