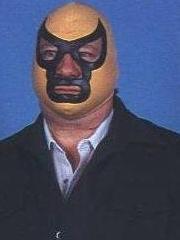 Assassin #1 (Joe Hamilton)
In this day and age it's easy for wrestling fans across the globe to keep track of pro wrestling titles. Simply tune into WWE or TNA on television or follow updates online to keep track on the few belts offered by each company. In comparison it would baffle current wrestling fans just how many recognized pro wrestling titles existed at any given time from the 1950s up until the 1980s.
Many fans today are aware of the popular southern NWA territories such as Georgia, Florida, and the Carolinas, but some of the hottest wrestling could be found in the NWA's Tri-State Wrestling territory of Arkansas, Oklahoma, Louisiana, and Mississippi. Many legendary grapplers such as Andre the Giant, Ron Bass, the Brisco Brothers, Ted DiBiase, Stan Hansen, and Dusty Rhodes made their way through the territory and one of the hotly contested titles sought was the region's Louisiana Tag Team Title.
Within a year from March 1978 to January 1979, the Louisiana tag champs were twice decided by way of a tournament. Mysterious masked wrestlers the Assassins picked up early Christmas gold in 1978 by defeating Terry Latham and Ricky Fields for the belts in Alexandria, but well before the New Year the belts were vacated when Assassin #2 split the scene.
L-R: Boyd Pierce and Bill Watts
Not one to take having to give up the gold lightly, Assassin numero uno recruited a fellow masked wrestler known as the Angel and entered the tournament to crown new Louisiana Tag Team Champions on January 6 in Shreveport. In the finals, Latham and Fields tried to regain the title they lost a month earlier, but fell short as Assassin #1 and the Angel become new Louisiana tag champs – belts they would hold until losing to the eventual final holders of that version of the championship: Bill Watts and Buck Robley.
Originally introduced briefly in the late 1950s, the Louisiana Tag Team Title was a mainstay in the area from 1968 until 1979 when Bill Watts bought the company from Leroy McGuirk, and renamed it as Mid-South Wrestling, which ultimately would become the Universal Wrestling Federation in a 1986 national expansion effort which ended when Watts sold to Jim Crockett, Jr., a year later to become part of World Championship Wrestling.