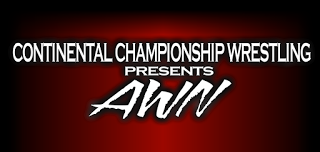 Ben Masters started off making the announcement that Continental Championship Wrestling has purchased the assets of Wrestlemerica/Bullet Proof Wrestling. I believe he said they were looking at July to start doing events in Barnesville.
The show kicked off with Masters doing an interview with one-half of the AWN Tag Team Champions, Stunt Marshall. It was announced that in two weeks Stunt and Damien Bennett will defend the titles against the Dirty Blondes in a 2 out of 3 falls match. This led into the first match:
Bobby Moore returned and pinned Stunt after a discus lariat
Cameron Jackson came out post match and like the last event taunted Stunt about his partner being elsewhere.
Jackson was in the next match:
Odinson made his return and beat Jackson after an F-10
Ben Masters once again called out Fry Daddy to get an answer as to why he turned on Logan Creed a month ago, costing him the AWN Championship. Fry once again claimed Logan turned on him first leading to Sal Rinauro coming out. Sal still was looking to get his hands on Fry and claimed he traded spots with Tyson Dean to get his opportunity which led to:
Fry Daddy defeated Sal Rinauro. The end came when the ref was cornered allowing fry to hit Sal with a low blow and then the jumping cutter for the 1-2-3.
After the intermission, Ben Masters called out Wrestlemerica champion Drew Adler who claimed he was ready to compete, but had no opponent and on June 16th he wanted to face a top tier talent.
Tyson Dean made his return to AWN and defeated the debuting Owen Knight after a spinning neck breaker
"Marvelous" Michael Stevens made his way out before the main event and ran down Ben Masters and new owner Dennis Gale. Marv claimed if he wasn't given a match in two weeks there would be quote "hell to pay"
In the main event, Bill the Butcher successfully defended the AWN Heavyweight Championship against "Encore" Zac Edwards. Afterward Oscar Worthy claimed nobody in AWN, Wrestlemerica, or Georgia wanted to challenge the monster Bill the Butcher. Unfortunately for Mr. Worthy, he wasn't aware that "The No Pain Train" Iceberg heard all of this and walked through the front door to a big time cheer from the crowd to confront them. Oscar suddenly lost his confidence and backed off quickly when the big man entered the ring. Bill was doing no such thing and took a swing at Iceberg only to be knocked on his ass and then flattened with a Ground Zero Splash. If Oscar was looking for a worthy challenger for his monster, he's certainly found it.
CCW's AWN returns in two weeks on June 16th. Bennett & Marshall defend the AWN Tag Team Titles in a 2 out of 3 falls match against the Dirty Blondes plus the return of Johnny Nixx and more.